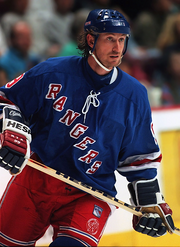 Wayne Gretzky
, nicknamed "The Great One", is a former professional hockey player. He played 20 seasons in the National Hockey League, won 4 Stanley Cups, played with 4 different teams, participated in the Winter Olympics, and broke numerous NHL records. He still holds many of those records today.
During and even after his career, he endorsed video games that carry his name and likeness. The following is a list of those games appearing on Nintendo gaming systems.
Gallery
See also
External links
Ad blocker interference detected!
Wikia is a free-to-use site that makes money from advertising. We have a modified experience for viewers using ad blockers

Wikia is not accessible if you've made further modifications. Remove the custom ad blocker rule(s) and the page will load as expected.