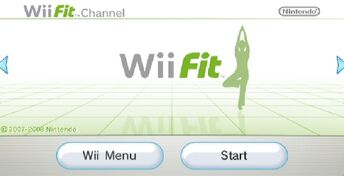 Wii Fit Channel is a Wii Channel included on the Wii Fit or Wii Fit Plus game disk. Upon using the Wii Fit or Wii Fit Plus software, users may install the Wii Fit Channel onto their Wii consoles.
Functionality
The Wii Fit Channel allows Wii Fit and Wii Fit Plus users to perform BMI tests with the Wii Balance Board, as well as view their progress on several graphs that can contain years of data. Users are unable to perform training from the channel, even if the disc is put in.
Ad blocker interference detected!
Wikia is a free-to-use site that makes money from advertising. We have a modified experience for viewers using ad blockers

Wikia is not accessible if you've made further modifications. Remove the custom ad blocker rule(s) and the page will load as expected.