Wii MotionPlus
Talk

0
12,006pages on
this wiki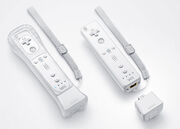 Wii MotionPlus was an accessory that was placed in the extension port at the bottom of the Wii Remote; however, the Wii Nunchuk could still be used. Wii MotionPlus supplements the accelerometer and Sensor Bar, and allows for more precise actions to be replicated ingame. The accessory came packaged with Wii Sports Resort, though the player could purchase them separately as well. Once attached, the device didn't need to be removed to play original Wii games. They were eventually succeeded by the Wii Remote Plus, which contains MotionPlus technology but doesn't require the accessory.
History
It was announced on July 14, 2008, a day before Nintendo's E3 2008 press conference. During the conference, they showed off the device along with Wii Sports Resort, a game the accessory would come packaged with. Also accompanying the device is a longer Wii Remote jacket so that it covers both the remote and the Wii MotionPlus.
During the E3, Wii Sports Resort producer Katsuya Eguchi explained that Nintendo could possibly in the future create Wii Remotes with this funcionality already built into it.
Development on the Wii MotionPlus started directly after development on the regular Wii Remote was finished, according to global Nintendo president Satoru Iwata.
Games
A lot of games support the Wii MotionPlus accessory, but the following games require it:
At once The Conduit had Wii MotionPlus features in it, according to High Voltage Software's Eric Nofsinger, though the end result felt like too much of a gimmick. Nevertheless, they explained that it may be used for a future sequel.