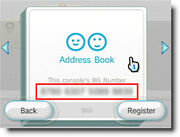 The Wii Number is a unique number that is different for each Wii system, and is used to register another Wii on the Wii Message Board.
To find the Wii Number
Simply go to the Wii Menu, and push the envelope icon in the bottom right corner. Then, push the Create Message icon (lower left), and the far right option. The player's Wii Number is displayed.
Ad blocker interference detected!
Wikia is a free-to-use site that makes money from advertising. We have a modified experience for viewers using ad blockers

Wikia is not accessible if you've made further modifications. Remove the custom ad blocker rule(s) and the page will load as expected.