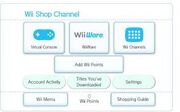 The
Shop Channel
is where the user can buy games or software(Opera Browser). Products are bought using Nintendo Points (NP), which can be bought on the Wii Shop Channel with a credit card, or at a store as Nintendo Points card.
Prices
Virtual Console
NES: 500 WP
SNES: 800 WP
N64: 1,000 WP
GEN: 800 WP
TG-16: 600 WP
NEO: 900 WP
WiiWare
500-1,500 points depending on game.
Music
The main title (composed by Kazumi Totaka) is available with the CD Touch! Generations Soundtrack
Ad blocker interference detected!
Wikia is a free-to-use site that makes money from advertising. We have a modified experience for viewers using ad blockers

Wikia is not accessible if you've made further modifications. Remove the custom ad blocker rule(s) and the page will load as expected.