Quote

"The Wii U GamePad has a gyro sensor and a geomagnetic sensor, so just by pointing the Wii U GamePad to the direction you want to look at, that scenery will be displayed on the GamePad screen. It's just like looking through a small window, and you can feel as if you're in that actual location. Images can also be displayed on the TV screen. The Street View is available at a very high resolution, so you're able to see a lot of fine details when you view it on the TV screen, and that gives you a sense of immersion."

— Satoru Iwata
Wii Street U™ powered by Google is a game where you can step into Google Street View . You can view an 360-degree Google Maps Street View of world-wide locations using the Wii U GamePad motion controls. Type an address or location on the GamePad™ touch screen and explore, or instantly travel to over 70 hand-picked locations around the globe. Register and post your favorite locations on Miiverse , capture and share photos to view them in Wii Street U, and share your comments with others.
Discover the world with the Wii U GamePad controller and Google Street View
Explore with a 360-degree view or the overhead satellite view, and display your altitude
Jump to over 70 intriguing, hand-picked locations
Access your search history, which displays up to 50 results at a time
Easily navigate with the Wii U GamePad touch screen
Register your favorite locations and post them to Miiverse
See real-time weather conditions and temperatures in Map View
Explore your favorite destinations around the world by walking on the Wii Balance Board.
Gallery
Videos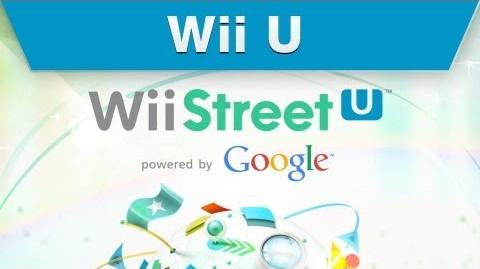 English trailer