Ad blocker interference detected!
Wikia is a free-to-use site that makes money from advertising. We have a modified experience for viewers using ad blockers

Wikia is not accessible if you've made further modifications. Remove the custom ad blocker rule(s) and the page will load as expected.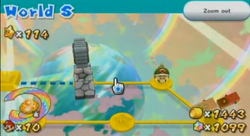 World S is a special world in Super Mario Galaxy 2 that's unlocked when you defeat Bowser in his final level.
Stages
Stars
Mario Squared Galaxy
Rolling Coaster Galaxy
Make Mario a Star
Luigi's Purple Coin Chaos
The Rainbow Road Roll
Purple Coins on the Rainbow Road
Green Star 1
Green Star 2
Green Star 1
Green Star 2
Twisty Trials Galaxy
Stone Cyclone Galaxy
Spinning and Spinning and Spinning
Turning Turning Double Time
Silver Stars on the Cyclone
Tox Box Speed Run
Green Star 1
Green Star 2
Green Star 1
Green Star 2
Boss Blitz Galaxy
Flip-Out Galaxy
Throwback Throwdown
Throwback Throwdown Speed Run
Wicked Wall Jumps
Cosmic Clone Wall Jumpers
Green Star 1
Green Star 2
Green Star 1
Green Star 2
Grandmaster Galaxy
The Ultimate Test
The Perfect Run
See also