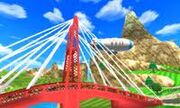 Wuhu Loop, (named Wuhu Island Loop in Europe), is the first track of the Flower Cup in Mario Kart 7.
This track highly resembles Wuhu Island. It has lots of Miis. It is the only the course to have traffic. Its music is a remix of the main theme of Wii Sports Resort.  Its successor is Maka Wuhu, which is a mountainous, longer version of this track. Unlike all courses but Maka Wuhu and Rainbow Road, there are no laps due it is very long. Instead of having three laps, the road is divided into three sections.
Walkthrough
The drivers start in the yellow market mall with lots of Miis cheering at you and there is also a water fountain which is inaccessible. The driver drives on a 'dangerous', traffic-like road. You than go on the red bridge with a ramp. There are lots of shortcuts which are not well hidden. Player than go inside the white tunnel with construction working about. If you are careless, than the character might accidentally crash into car or fall into mud ruin under the not-protected tunnel since walls are thin. After exiting the tunnel, there is an inactive volcano which never erupts, Maka Wuhu. There is a hidden shortcut which can be accessible you can go there if the driver falls into the mountainous rock. After getting away from the volcanic mountain, there is a bad danger with red cones because there are no guardrails to protect anyone from falling into the bottomless pit of water. There is an incredibly perilous shortcut there. After facing the danger, there is a wide road split into two thin road: going left is a grey concrete road and preferring right one is a shortcut and it is muddy, although it doesn't slow you down. After gliding, there is a winding road which leads players to the finish.
Ghost data:
1.44.287 for RetBryan selecting Peach.
1.32.854 for NinNkm selecting Peach.
Shortcuts
After exiting red bridge, there is a shortcut with a ramp which requires a mushroom to go through the grass.
When going near volcano, the player must drop into the white cave. You can see a gliding pad.
After going away from volcano, land on three white statues. This is incredibly dangerous shortcut.
When the driver found lighthouse/propellers, drive on dirty brown road on right. It has gliding pad.
After gliding or going next to the boxes, there is a shortcut with a ramp. It requires Mushroom.
All others: Requires good items. Go on the grass.