For the third Zelda installment, see The Legend of Zelda: A Link to the Past.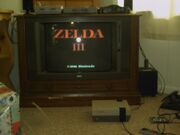 Zelda III
was going to be the next game in
The Legend of Zelda series
. It was being developed for the
NES
. With the success of the
Game Boy
and the
Super Nintendo Entertainment System
and the project was cancelled.